♫₊˚⋆。♪₊°♬˚.⁺♫₊˚⋆。♪₊°♬˚.⁺

Like a celestial siren, Ghost Crab beckons from the mystical realms of New York City, her metropolis of wonder. She weaves her melodies like delicate strands of moonlight, casting a spell of rapture upon the receptive hearts of all who wander into her melodic embrace.

See her visual art website here.

Proudly represented by Toadstool Records.

contact: hi@toadstool-records.club



⋆ .・゜゜・ ・゜゜・. 。・゚゚・ ・゚゚・。


Caroline's symphonic odyssey ignited in the enchanting year of 2013. Picture her as a luminary DJ, casting sonic spells over the airwaves of WRUV 90.1 FM as a student the University of Vermont.

2015 unveiled her metamorphosis into the enigmatic Ghost Crab, a sonic sorceress in her own right. Her show, christened "Secrets of the Sunken Caves," was a tribute to Cousteau, a cascade of melodies that continues to serenade hearts.

Amidst the emerald mountains of Vermont, her musical senses took flight. Dead Set Tuesdays at Nectar's and the electric aura of Montréal's DIY scene painted her palette. And ah, the disco inferno ignited every Saturday at Light Club Lamp Shop, a rhythm rendezvous with DJ Takihiko "Taka" Matsui that flirted with the divine.


⋆ .・゜゜・ ・゜゜・. 。・゚゚・ ・゚゚・。


Skip to the psychedelic fantasyland of 2016, New York beckoning with its skyscraper reveries. By day, Caroline was a maven of photography and graphic design; by night, the maestro of MP3s in Brooklyn and Manhattan. The 8 Ball Community zine fairs were her laboratories of rhythm, a prelude to commanding the spotlight at venues of prestige: Pioneer Works, H0l0, Beverly's, Mood Ring, and many others. Her name shared "marquees" with virtuosos like Logan Takahashi and Stefan Ruiz.

But her echoes weren't confined to the city that never sleeps; they reverberated through the boulevards of Paris, the alleys of Montréal, and the plazas of Madrid. Pagille Paris Radio, Rinse France, Hotel Radio Paris, n10.as Radio, to name a few—these were her pulpit and her parish.


⋆ .・゜゜・ ・゜゜・. 。・゚゚・ ・゚゚・。


Then, the tale unfolds in 2021—a year of cosmic shift. A basement sanctuary materialized in Bushwick, where melodies danced and harmonies whispered. Even in the hush of shuttered bars, karaoke echoed, jam sessions painted auroras of sound. From this crucible emerged Toadstool Records, a haven for kindred souls bound by rhythm's spell. Amid these vibrations, "The Garden Album" sprouted, a self-fashioned opus that bore Caroline's essence, released in 2022.

As the stars aligned, another luminary danced into her orbit. Michelle Borreggine, an artistic marvel, kindred spirit from the 8 Ball Community, became her collaborative companion. Together, they wove dreams into melodies, visuals into anthems. Thus, Dreamspoiler was birthed in 2022—a testament that their synergy was nothing short of cosmic alchemy, painting the world in hues of sound and vision.


⋆ .・゜゜・ ・゜゜・. 。・゚゚・ ・゚゚・。


In the rhythm of life, Caroline seamlessly moves between Brooklyn's urban energy and the tranquil familiarity of Connecticut, her childhood home. Amid this dual dance, creativity flourishes. She composes melodies, curates through her design practice, Earth Creatures, and tends to Toadstool Records—a haven for fellow creators.

A faithful partner in her journey is her canine companion Harry, his name a nod to both Harry Hosono and Harry Nilsson, whose presence adds harmony to her world.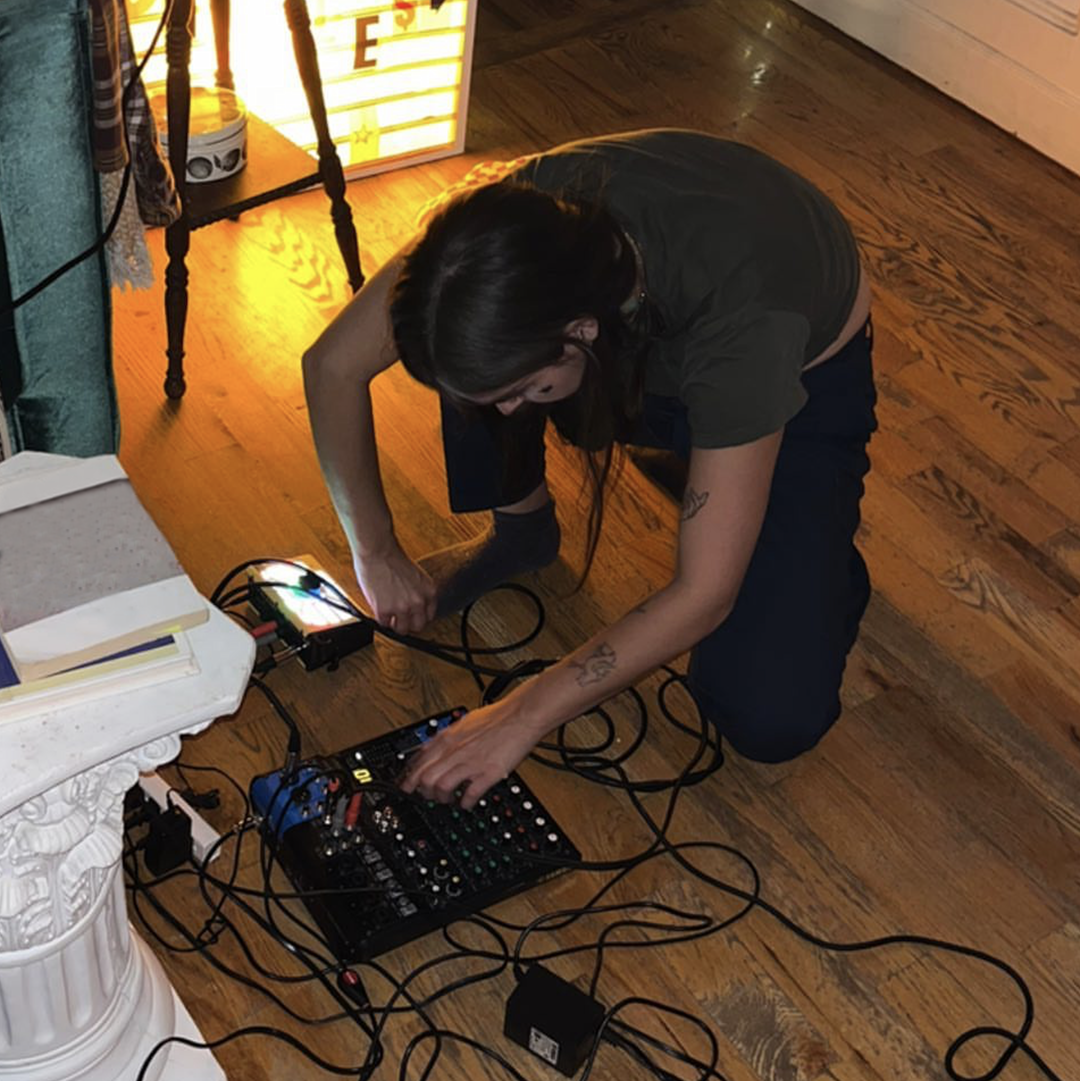 please note: this website is filled with hidden secrets...
fortune favors the curious